HIRYUJOUUN
Hiryujouun expresses the idea of "Riding the flow of the times and running up".
The bottle will be a one-of-a-kind item handmade by craftsmen.
Both Japanese sake (Junmai Daiginjo) and shochu (Kasutori Shochu) are brewed with the Fukuryu water (natural spring water) from Mt Fuji.
The sake contains edible gold powder like the snow falling on Mt. Fuji, and the attached LED lights up to create a fantastic atmosphere.
It is an excellent gift that will be appreciated not only by yourself but also as a gift for your loved ones.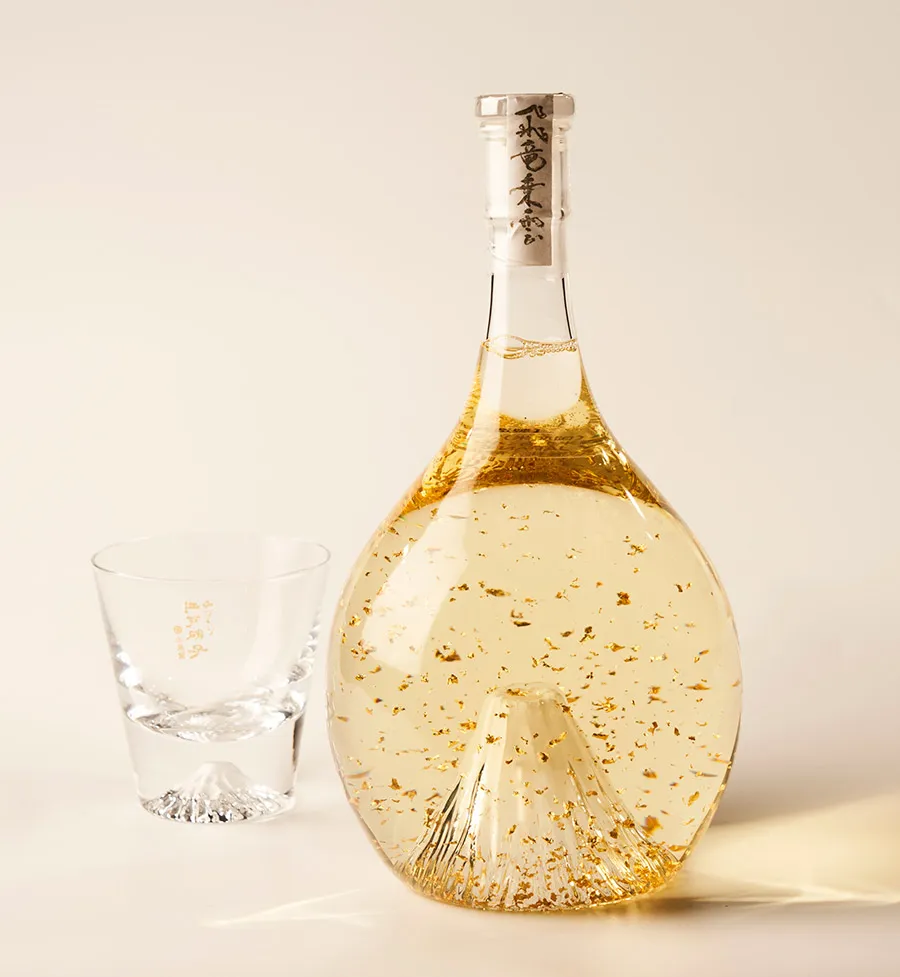 Features of HIRYUJOUUN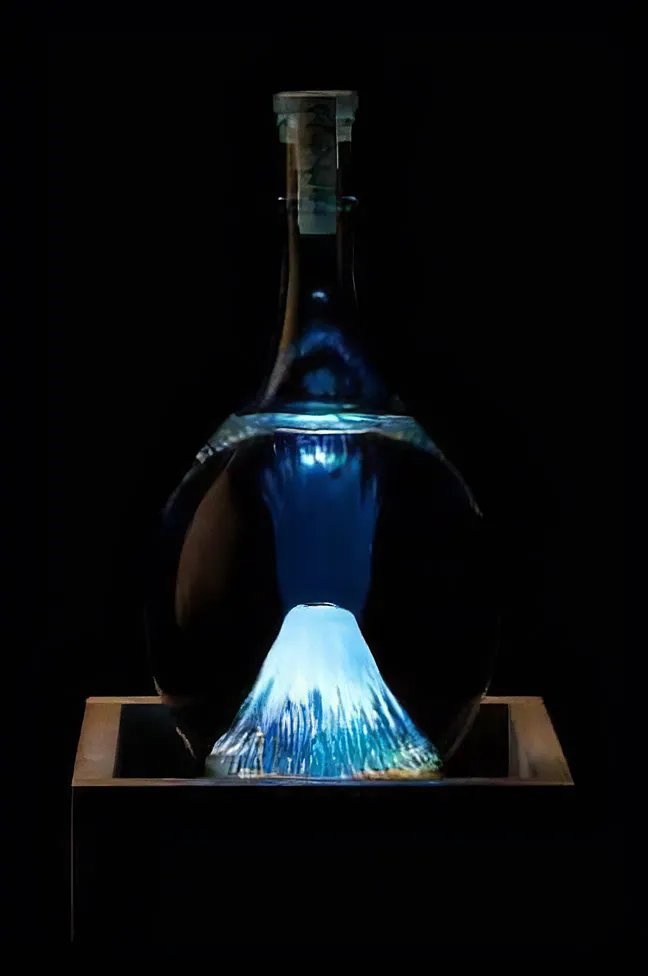 The Mt. Fuji bottle "HIRYUJOUUN" comes with LED lights and a remote control as standard. You can enjoy the illuminated Mount Fuji in various colors. Additionally, using the FADE button on the remote control, you can automatically change the colors, allowing you to enjoy the color variations.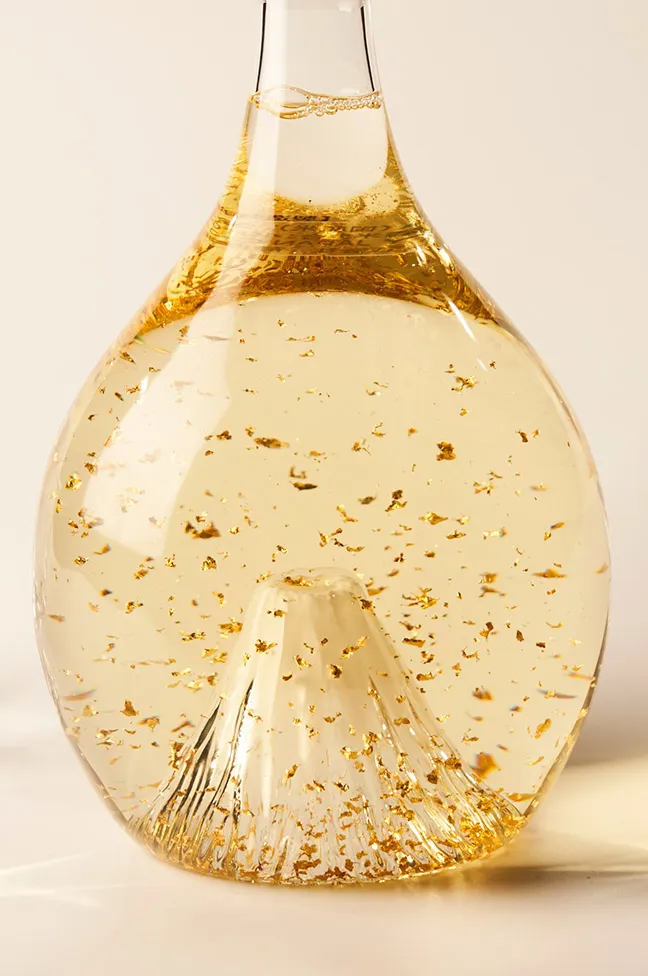 This sake is adorned with "Luxurious Gold Flakes", which shimmer like snowflakes dancing on Mount Fuji, adding an extravagant touch. Using a traditional technique dating back to ancient Japan, gold is known for its unique and enduring beauty that doesn't tarnish compared to other metals. It symbolizes the desire for the recipient of Hiryu Noriun to always shine brightly, reflecting the inherent quality of long-lasting radiance.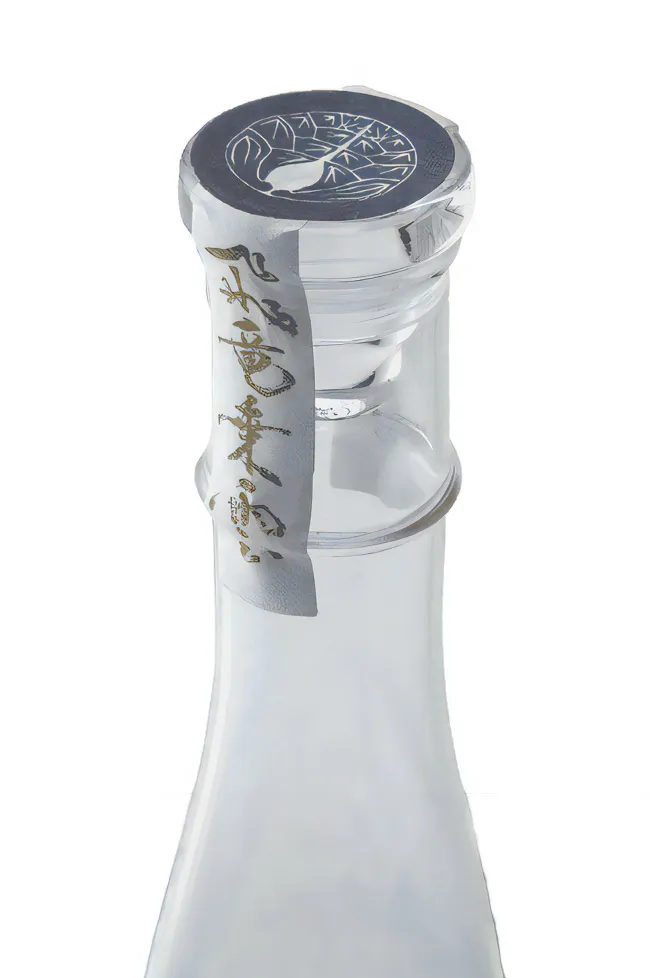 The bottle is equipped with a glass cap. The bottle itself is a handmade work of art crafted by skilled artisans, which is why we have opted for a glass cap to create a sense of unity and rarity in the sealing of the sake. Furthermore, we have designed it with a focus on the exquisite aesthetics, foregoing a screw cap, so that you can enjoy pouring and savoring the sake multiple times while appreciating its detailed craftsmanship.
The characteristics of "HIRYUJOUUN" are as follows:;
Vibrant colors and luxurious presentation: The LED lights illuminating Mount Fuji and the lavish gold flakes resembling falling snow enhance the beauty of the sake. The combination of colors and presentation creates a unique sense of opulence.
Enjoyment of seasonal variations: The FADE button on the remote control allows for automatic color changes, enabling the appreciation of the beauty of each season's transformation—spring, summer, autumn, and winter.
Enduring radiance and durability: The use of gold flakes, a traditional technique, ensures long-lasting brilliance compared to other metals. It symbolizes the desire for the recipient to shine brightly even in the long run
Value as a handcrafted work of art: The bottle itself is a handmade craft by skilled artisans. The meticulous attention to detail in its design adds to its aesthetic appeal, and the glass cap contributes to a sense of unity.
Reusable design: Instead of a screw cap, the bottle features a reusable glass cap, allowing for repeated enjoyment of the sake by refilling it multiple times.
Combined, these features make the "HIRYUJOUUN" a unique and beautiful experience.